Pubilications Covers 2018—
Artist: Gabby Garcia Steib
2022

Co-Editors: Moises Mendez III and Antonia Zennaro
Texts: Roa and the aforementioned

48 Pages
5.5 x 8.5 in.
In-house Risograph Edition of 100


Frequent collaborator, artist and friend, Gabby Steib invited me to produce a publication for their group show, entitled Banana Land. The zine and exhibition investigated the age old question: "How it is possible that a group of white men in New Orleans had control over the political, economical, and environmental outcomes in Latin America?"

In my interpretation of the content and imagery provided by Gabby for the production of the cover, I wanted to honor her vision of the artwork, texts, the topic at hand, her choice of archival imagery and to keep with a serious tone that also may entice an unknowing casual viewer of its contents.

The following title page played with the idea of the removal of the author names and the worker; their disappearance and anonymity, as often is the case when one looks slightly below the surface.
Client: 826 New Orleans
Youth writing and publishing organization
2019

Editors: Kyley Pulphus and Jeff Carver
Texts: New Harmony High students with Nathaniel Rich
ISBN: 978-1-948644-42-6

106 Pages
5.5 x 8.5 in.


We were invited to produce the book cover of a collection of writings from the students of New Harmony High in New Orleans. The themes of many stories explored the dark realities of our city, so it was a nice challenge to find a way to keep it light-hearted in its outward appearance.

Exploring dark themes is an easy go-to in some of the projects that have been put in front of me over the years. It tends to be my default approach, but applying such to the work of high school students and for the audience of their peers, family, and patrons of 826 didn't feel like the right direction. While dystopian in many ways with the understanding of New Orleans on-going plight with water and it's very existence, I took a more illustrative approach for the cover.

The child-like character is non-descript, without emotion, looking forward, and underwater. Maybe they are having fun in a pool with goggles or possibly existing in an unfortunate future where we all must wear head gear to breathe underwater. Either way is fine among any other possibilties, and it is this openness which gives the viewer agency on his it is to be perceived.

Aesthetically, the classic geometric sensibilities of the trade-paper era in height has always appealed to me, so it was nice exploration to revisit these ideas in bold shapes and deep color usage.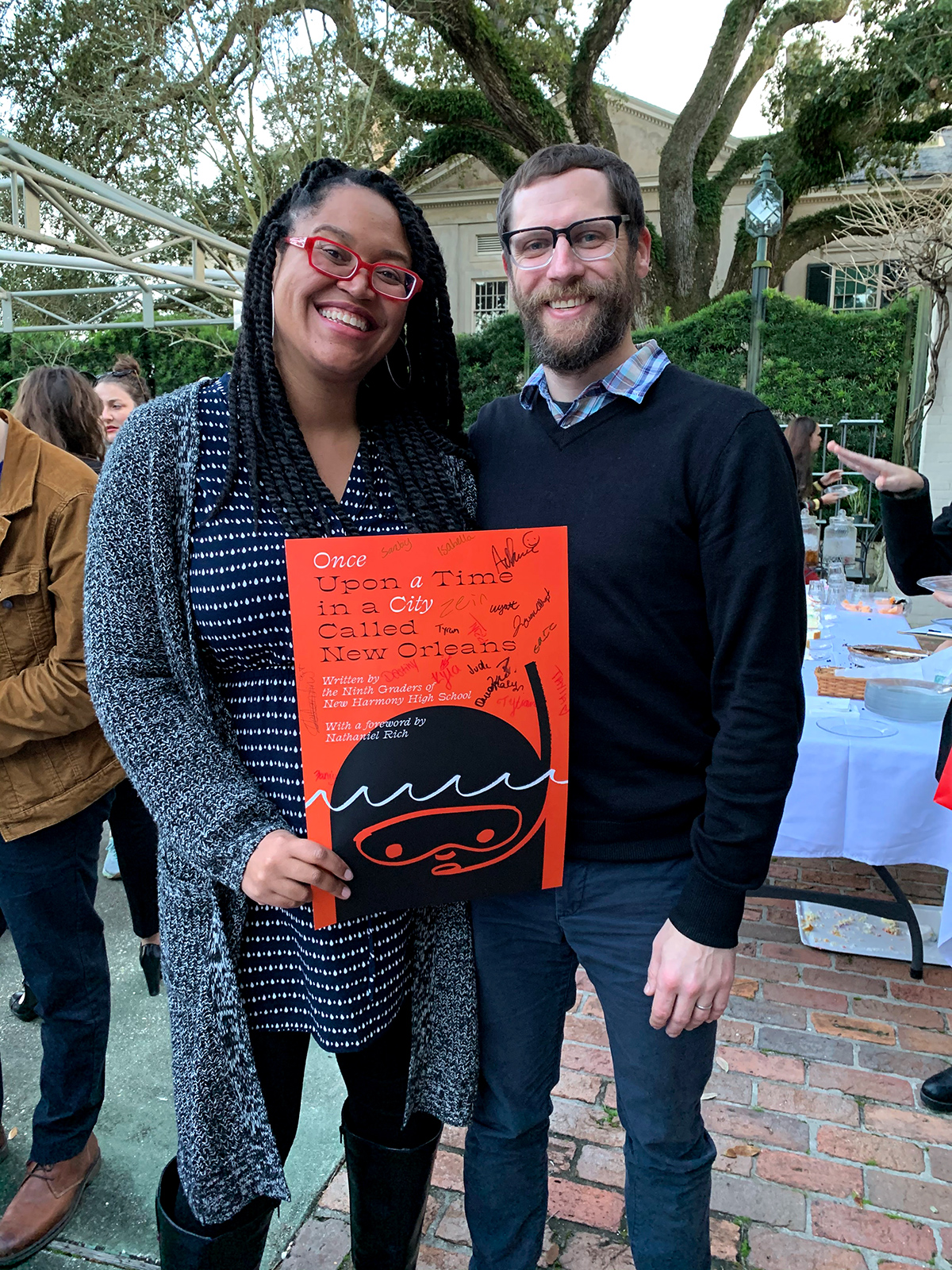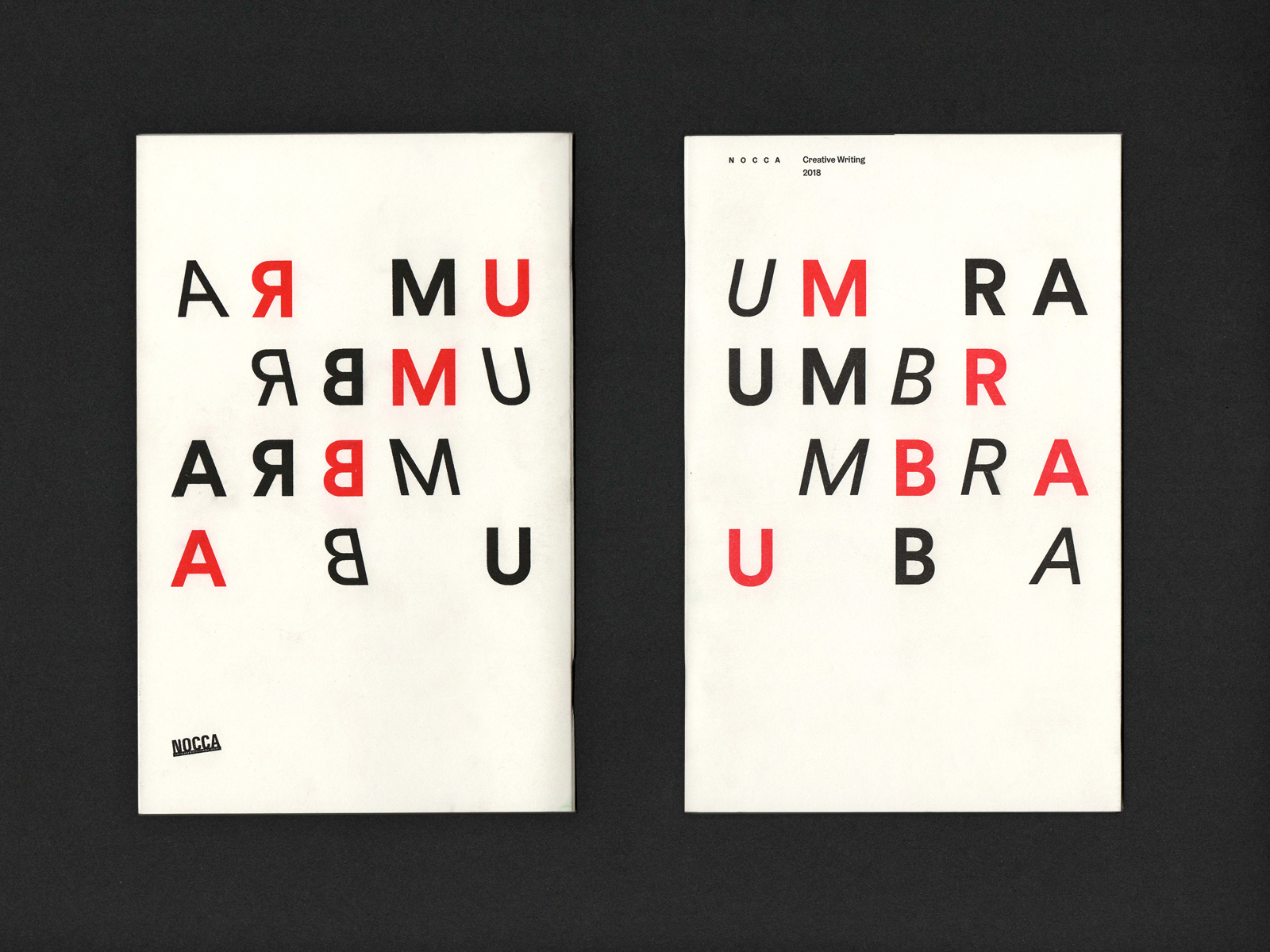 Cleint: New Orleans Creative Center for the Arts
UMBRA High School Arts and Literary Journal
2018

Editor: Gracie Morse
Texts: Creative Writing Team of 2018

56 Pages
5.5 x 8.5 in.
French Fold
Squared Spine
In-house Risograph Edition of 300


We were invited to produce the book cover of a collection of writings and artworks with the students of NOCCA, here in New Orleans. Over the years, we have worked with the class to produce Risograph Editions of their publications, but this particular year, it was nice to be included in the design for the cover of the publication as well.

With a heavy focus on writing, it seemed to make sense to keep the cover treatment simple and direct. The students art direction included a strong affinity towards something minimal that year, as previous editions contain a full image of a students work from the art department.

Rather than diving deep into the texts to find a common thread, they appreciated the universalist approach of sorts, playing with type in a classic way, leading us to the Red / Black application that was utilized in the reproduction of the interior.